Gastric Band in Turkey
Gastric Band in Turkey: With a band on the upper stomach results a minimal pre-stomach. This leads to a feeling of satiety and ultimately to the desired weight loss.
Gastric Banding Surgery in Turkey for Weight Loss
Have you already tried everything to permanently reduce your weight? Not just to feel good in your own body again, but rather to steer your health back in the right direction? You suffer from obesity and want to do something about it? – No problem, our Aesthetic Travel Team in Antalya is the right place for you! We will be happy to advise you on stomach operations, correlating costs, treatment procedures, etc. Just ask us! One of the restrictive treatment methods in the form of gastric surgery in Turkey is the gastric band. One of our specialist surgeons will put this around your stomach using a minimally invasive technique. Under general anesthesia and with laparoscopy, the operation uses the so-called "keyhole method". Keyhole method means that only a few incisions are necessary in your abdominal wall to then place the band around the upper part of the stomach. This divides the stomach into two parts, creating a pre-stomach. Due to the small volume of the created front stomach section (size of a tennis ball), not so much food can be taken in. If too much should be eaten, there is unpleasant pressure in the upper abdomen and neck, which quickly leads to nausea and vomiting.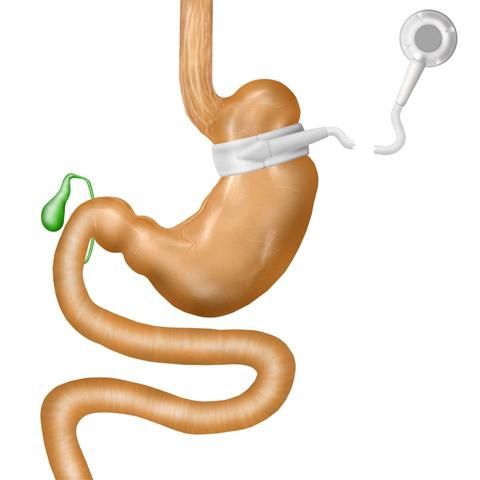 Do you have any questions?
Advantages & Requirements for a Gastric belt
In general one speaks of a successful therapy by means of gastric band, if the patient decreases in approximately ½ kilo per week. More specifically, if approximately 50% of the excess weight is reduced by this form of treatment. 
As with other restrictive gastric surgeries, the following requirements apply in order to undergo surgery in Turkey:
BMI (Body Mass Index) of 40 (corresponds to obesity)
BMI of 35, associated with severe physical impairments
Diagnosis should have been available for at least 3 years
Exclusion of alcohol and drug abuse
No mental illnesses known
Age of majority (18 years of age)
The gastric band should be the last medical option
Detailed clarification of any essential information in advance
Planning of a multimodal therapy program, which includes nutritional consultation, individual exercise training, as well as psychological treatment
What are the advantages of the gastric band?
With the help of the gastric band used in Turkey, you can gain a new quality of life that you did not know before. With a little self-confidence, commitment and the right medical and all-embracing support, which you receive from our Aestehtic Travel team in Antalya, your pounds will fall more and more. There will be a new consciousness about food and your body – and with time the strong feeling of hunger will also subside, even if this remains naturally. Trust yourself, we will accompany you on this way! Besides a permanent reduction of your body weight, not only will your physical and health complaints be regulated over time, but your psychological condition will also become continuously stronger. You will gain more self-confidence and radiate it! With the help of the gastric band, new doors are opened without major anatomical changes taking place in your body. Let us advise you in detail in Antalya!
Gastric Band in Turkey – At a glance
Gastric Band in Turkey - Frequently Asked Questions